Annotations for Jerusalem by Alan Moore
Book 1 – The Boroughs
Hark! The Glad Sound!
General: This chapter is from the viewpoint of Tommy Warren, as he awaits the birth of his first child, Alma Warren, on November 18, 1953. Tommy reminisces about his past, especially the period immediately following WWII, and his experience of the "Whispering Grass" incident.
Page 304 – titled Hark! The Glad Sound!
paragraph 1
"from the Abington Street library to the workhouse in the Wellingborough Road" – Replicating some of Ben Perrit's walk in the chapter Atlantis (P220p3-P226p2). It's a distance of about half a mile, so the piano would be pretty faint, but at least partially audible. See map below.

"from the Abington Street library to the workhouse in the Wellingborough Road" (Google Maps 2022)

"the workhouse" – St. Edmund's Hospital was in a building that had earlier been a workhouse.
"Kensitas" – A Scottish brand of cigarettes.
paragraph 2
"Carnegie Hall above the library" – A website about the library says: "The building has a 300-seater Carnegie Lecture Hall which was used for concerts and lectures".
"Mad Marie" – A real marathon pianist named Marie Ashton. In 1958, she allegedly set a world record of playing the piano for 133 hours!
paragraph  3
Page 305
paragraph 1 (continued)
"The British Grenadiers" – A stately march, dating back to at least the 1700s, extolling the virtues of British soldiers.
"in the Warrens and the Vernalls" – While we have had multiple chapters about the Vernalls, we have heard almost nothing about the Warren side of the family, nor what "conundrums" it may have contained.
paragraph 2
"piss-puddle headlight" – Older car headlights can become yellowed.
"Humber Hawk" – A classic British car, introduced after World War II.
"motors" – Now-dated slang for "cars".
"Phipps's brewery" – Phipps Northampton Brewing Company, founded 1801. A Phipps horse and cart appeared in the chapter Modern Times (P149p4).
"Earl's Barton" – Earls Barton (now spelled with no apostrophe) is a village in Northamptonshire, about 6 miles east of the Boroughs.

Phipps dray re-enactment in 2017 (https://nenequirer.com/2017/06/04/horse-drawn-dray-delivers-english-summer-scene/)

"they still kept the old drays" – The one source I've found about horse-drawn delivery from Phipps says that it ended in 1908.
"shire mares" – Female horses of the Shire breed, a very large British horse often used to pull carts.
"Watney's" – A London brewing company founded in 1837. Per Wikipedia, it peaked in the 1930s.
"getting squeezed out given ten more years of it" – Watney's bought out Phipps in 1960 (seven years from this chapter). The Phipps brand was discontinued in 1968.
paragraph 3
"Brylcreem" – A British brand of hair products.
"rationing" – Some aspects of postwar rationing in the UK lasted until 1954.
"VE Day" – "Victory in Europe Day" marks the day of Germany's surrender in WWII, May 8, 1945, ending the war in Europe. (The war in the Pacific went on rather longer.)
"Winnie Churchill" – Winston Churchill (1874-1965) was Prime Minister of the UK between 1940 and 1945. He was voted down as part of a general election in July 1945.
"Clem Atlee" – Clement Attlee (1883-1967) was Prime Minister of the UK from 1945-1951.
"they'd got Churchill back again" – Churchill became Prime Minister again from 1951-1955.
"de-nationalise the steelworks and the railways" – One of the major projects of the Attlee government was nationalizing sectors of the economy that had been weakened by WWII. Steel had been nationalized in 1951, and the railways in 1948. In fact, British Steel was not privatized until 1988, and British Rail in the 1990s.
"National Health" – The National Health Service was founded by the Attlee government in the 1940s. As of this writing(early 2022), it remains nationalized, though various right-wing governments have been attempting to privatize it for some time.
"National Insurance" – Essentially the UK version of the US Social Security, a social safety net and pension system.
"kids could go to school for nothing" – The Education Act of 1944 (which took effect in 1947) abolished parental fees for schooling.
"until they were, what, seventeen or eighteen" – The 1944 legislation made school mandatory until age 16. If I understand correctly, students had the option to continue their education for a few more years, but I admit my understanding on this subject is very weak.
paragraph 4
"Grammar School" – Tommy is referring to an elite, almost entirely upper-class secondary school. I'm not sure if this usage is correct for Tommy's situation in the early 1930s. "Grammar School" originally referred to primary schools (and retains a similar usage in the US). At some point usage in the UK changed to mean elite secondary schools. As near as I can tell, this new usage was formalized in the aforementioned Education Act of 1944, but existed .
Page 306
paragraph 1 (continued)
"He'd had to leave at thirteen" – Technically illegal, as school was compulsory until age 14 at the time. But I presume those laws were not very strictly enforced.
paragraph 2
paragraph 3
"Lou, six years his senior" – Actually seven. See note in chapter The Breeze That Plucks Her Apron, P302p8.
"by the age of forty" – Not cutting it all that close; Tommy is now 36. Though since Alma is a girl, he'll squeak under the wire with second child Michael, at age 49.
"May Minnie Warren" – Based on the real life Minnie May Moore. May was, of course, our viewpoint character last chapter.
paragraph 4
"1947 or round then" – The real-world Walter Moore married in late 1945.
"the dance hall up in Gold Street" – I haven't been able to locate this more specifically.
Page 307
paragraph 1 (continued)
paragraph 2
"toot sweet" – English mangling of the French "toute suite", "right away".
"Frank, you're nearly twenty-five" – Placing his birth circa 1923.
paragraph 3
paragraph 4
"Morris Minor" – A British economy family car from the late 1940s through the early 70s.
""O Little Town of Burlington", or possibly "Bethlehem Bertie"" – Moore playfully mixes the Christmas carol "O Little Town of Bethlehem" (another song about the birth of Christ), with the humorous dance-hall song "Burlington Bertie", implying that Mad Marie is still conflating different pieces of music.
paragraph 5
"before his dad died" – Per the previous chapter, 1938 (possibly, see note).
"Ron Bayliss" – I have been unable to discover anything about this person.
"Boy's Brigade" – A Christian youth organization, somewhat similar to the Boy Scouts.
"the old church in College Street" – Probably the building which now houses the New Testament Church of God, but which would have been something else in the 1930s (as the current denomination didn't exist yet).
"Liz Bayliss" – Again, I have not found any exact information on her. There have been Baylisses in Northamptonshire for some time, and the 1901 census lists an "Eliza" and an "Elizabeth", one of whom may be an ancestor of Liz's.
Page 308
paragraph 1 (continued)
paragraph 2
"Maxie Miller" – Max Miller, "the Cheeky Chappie" (born Thomas Henry Sargent, 1894-1963) was a real British comedian, known for his risque humor.
"white book" – A website of the Max Miller Appreciation Society recounts:


In one of his acts he would take from his pocket two books, one a white book and the other a blue book, explaining to the audience that these are joke books and asking them which the audience would like; the crowd almost always chose the blue book. The jokes in the 'blue book' were the naughty ones.

(The association of "blue" with profanity goes back to at least the 1880s.)
paragraph 3
"his white suit with big red roses in brocade all over it" – It's possible that Moore has only seen black-and-white reference for Max Miller, as his actual suit appears to have been yellow (see image).
paragraph 4
"toss meself off " – Playing on the British euphemism for masturbation "toss off".
paragraph 5
Page 309
paragraph 1 (continued)
paragraph 2
"carbuncle" – A large swollen area, possibly infected, though the word is used casually to refer to more stable growths.
paragraph 3
"Philip Doddridge" – Doddridge and his church are important recurring element in Jerusalem. Doddridge appears in an important role in the chapter Malignant, Refractory Spirits.
"Castle Hill" – The location of Doddridge's church.
paragraph 4
"the war" – World War II, then recent enough to be thought of just as "the war".
"Four brothers setting out, three coming home." – Jack Warren is based on Jack Moore; both died late in the war.
Page 310
paragraph 1 (continued)
paragraph 2
"eight years later" – The war ended in 1945, we are now in 1953.
"a pretty young queen" – Elizabeth II had become queen less than two years earlier, February 6 1952, at the age of 25.
"Good Queen Bess" – Elizabeth I, born 1533, reigned 1558-1603.
"ordinary working people had got televisions so as they could watch the coronation" – Per Wikipedia, "Millions across Britain watched the coronation live on the BBC Television Service, and many purchased or rented television sets for the event. The coronation was the first to be televised in full". The televising of the coronation also formed the background of a 2006 episode of Doctor Who.
"Journey into Space" – A BBC radio science fiction program, which had debuted very recently, on September 21, 1953. As of the date of this chapter, 9 episodes would have been broadcast.
"they'd talked already of another one" – This will be Michael Warren, to be born in 1956.
"New Elizabethans" – The reign of the first Elizabeth is generally considered a high point for England. The coronation of Elizabeth II was accompanied by a wave of optimism that a "new Elizabethan age" had dawned. The phrase "New Elizabethans" seems to have fallen out of common usage fairly soon, though it was later used as the title of a 2012 BBC Radio series.
paragraph 3
""My Old Man Said Onward Christian Soldiers"" – Another mashup of secular and religious music. "My Old Man Said" is a music hall song from the early 20th century concerning a family moving house. "Onward Christian Soldiers" is a 19th century hymn.
paragraph 4
"his granddad, Snowy" – We met Snowy in the chapter Do As You Darn Well Pleasey, and will see more of him in the chapter Eating Flowers.
"Fort Street" – The real person on whom Snowy is based seems to have been living at 37 Fort Street from c.1905. Fort Street no longer exists.
"butcher's paper" – Low-quality paper sold in large rolls, often used for children's crafts because of its cheapness. So called because it was originally used by butcher shops to wrap meat in.
"Tom's great-granddad Ernest Vernall" – Whom we met all the way back in A Host of Angles.
Page 311
paragraph 1 (continued)
"Bedlam, the original asylum" – Per Wikipedia, "It is unknown when Bethlem, or Bedlam, began to specialise in the care and control of the insane, but it has been frequently asserted that Bethlem was first used for the insane from 1377."
paragraph 2
"mac" – Britishism "raincoat".
"Kensitas" – See P304p1.
paragraph 3
"butler mascot" – See image at P304p1, above.
"Captain Webb" – A brand of matches, named after Captain Matthew Webb, the first person to swim the English Channel without artificial aids.
"fag" – Britishism "cigarette".
"Fry's Five Boys bar" – A popular milk chocolate bar, in production from 1902 to 1976.

Fry's Five Boys bar ad (date unknown)

"a quintet of lads at various emotional extremes" – Actually one lad, photographed five times. The photos are labeled "Desperation", "Pacification", "Expectation", "Acclamation", "Realization "It's Fry's"".
paragraph 4
Page 312
paragraph 1 (continued) – 4
No notes.
Page 313
paragraph 1 (continued) – 2
paragraph 3
"sultana" – A pale yellow variety of grape, or a raisin made from that grape.
paragraph 4
Page 314
paragraph 1 (continued)
paragraph 2
"Borough Waste Destructor" – See chapter The Destructor, Pxxx.
"that was one mystery solved" – It's unclear to me what "mystery" has just been solved. Possibly the date of the mathematical insight? But that has only been slightly narrowed down.
paragraph 3 – 4
paragraph 5
"demob suit" – Civilian clothes given to British soldiers who were "demobilized" after WWII.
Page 315
paragraph 1 (continued)
"Ronald Colman" – (1891-1958) English-born actor with a film career in Hollywood.
"black and silver" – Early movie screens were silver-colored (hence the use of the term "silver screen" for the medium as a whole).
paragraph 2
"Abington, the park, and Weston Favell" – Abington and Weston Favell are both neighborhoods of Northampton located ENE of the Boroughs. The park referred to is almost certainly Abington Park, a large park roughly between the two neighborhoods.

Abington area (Google Maps 2022)

Model of Ford Anglia 105E (www.chezbois.com)

"Ford Anglia" – A brand of Ford family car, used from 1939-1967 on a variety of models. The one Moore describes here closely matches a die-cast model of an Anglia 105E (see image), although that model wasn't introduced until 1959.
"Charles Bradlaugh's statue" – Charles Bradlaugh, MP. The person (and statue) are described in the final chapter of Voice of the Fire.
paragraph 3
paragraph 4
"Castle Station" – In the SW corner of the Boroughs, the approximate location of the former castle.
Page 316
paragraph 1 (continued)
"Euston Station" – A major London Railway hub.
"Leighton Buzzard, Bletchley, Wolverton" – Towns in between London and Northampton, all in the Milton Keynes area.

…got on the train at Watford and was going on to Coventry… (Google Maps 2022)

"Watford" – A large town NW of London.
"Coventry" – A city NW of Northampton.
paragraph 2
"Luftwaffe" – Germany's air force during World War II.
"RAF" – The Royal Air Force, of the United Kingdom.
"When the Americans went over, everybody ran." – The joke presumably being that the American Air Force was so indiscriminate in its destruction that even its own allies feared it.
"backed Hitler until 1942" – Not very true. Certainly some Americans supported Hitler, and some corporations based in America did business with Nazi Germany. But official government policy prior to 1942 was isolationist.
"took all the credit" – This one is pretty fair, I have to admit.
"Jerry" – Wartime slang for "German".
"Battle of the Bulge" – A major German offensive from Dec 1944-Jan 1945.
"Operation Autumn Mist" – In German, Unternehmen Herbstnebel. Originally, the name was used for an alternative plan, but ended up being applied to the Battle of the Bulge.
"Fritz" – A common German name, used generically to mean "Germans" or Germany" during wartime.
"darkies" – Dark-skinned people (that is, African-Americans). The term would have been considered mildly offensive in 1953, rather more so today.
"Black Lion" – Unclear whether this is the "old" Black Lion or the "St. Giles Street" Black Lion
"niggers" – Highly derogatory term for black people.
paragraph 3
"rubber johnnies" – Condoms.
"up the bracket" – Per Wikipedia, "a slang term meaning a punch in the throat."
Page 317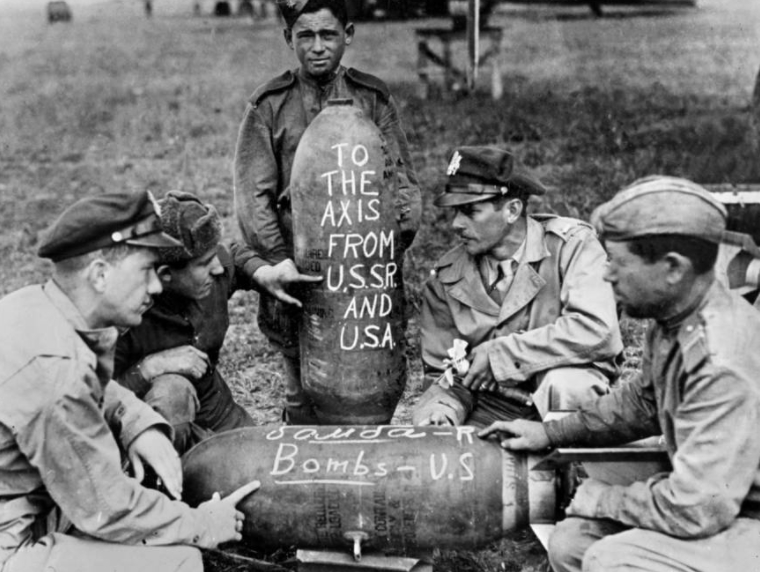 paragraph 1 (continued)
"chirpy slogans on the sides […] like they did with bombs" – Writing chalk messages on bombs seems to have been practiced on all sides — and continued into the 21st century!
paragraph 2
"Roman candle" – A type of firework.
"as red as Russia" – The Russian flag was predominantly red, leading to the practice of referring to Russia or Russians as "Reds".
""When johnnies come marching home again, hurrah"" – Riffing on the very popular soldier's song "When Johnny Comes Marching Home", originally from the American Civil War.
paragraph 3
paragraph 4
Page 318
paragraph 1 (continued)
"fairy lights" – British term for Christmas lights.
"along Marefair, back home to Green Street" – See map, right.
"ruddy" – Literally "reddish". Here used in its more common British usage as a mild intensifier, kind of a milder version of "bloody".
paragraph 2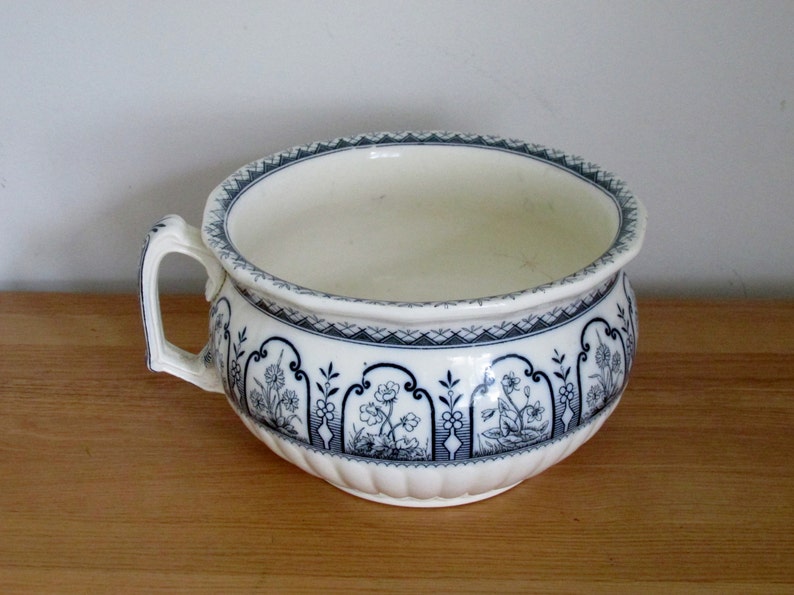 "fancy China piss-pot" – Before the advent of indoor plumbing, people would store a container called a "chamber pot" (or, more rudely as here, a piss-pot) in which to urinate during the night, to be emptied in the morning. While a poor family like the Warrens would have used simple, functional chamber pots, richer people would have fancier, decorated ones. At some point the Warren family acquired this "fancy china piss-pot", but treated it as a keepsake to be displayed in the parlor, rather than as a functional piece of furniture.
"guzunder" – Chamber pot. Wiktionary claims that the etymology is "Because it "goes under" the bed."
paragraph 3
"chalk and caviar" – An oddly poetic way of saying "black and white"?
Page 319
paragraph 1 (continued)
paragraph 2
"First Walt had met a little beauty and got married" – In 1947, see P306p4.
"ginger" – British "redhead".
"near-the-knuckle" – British idiom, "risque".
paragraph 3
"his big little sister" – Louisa is several years older than Tommy, but "nearly a foot" shorter (P306p3).
paragraph 4
"Mr. Partridge" – While there have been people named Partridge in Northampton going back at least to the 1980s, I haven't found any specific information on this individual.
"the Elephant Lane end of Green Street" – The west end (see map). Some time between 1899 and 1950, Elephant Lane seems to have become part of Green Street.
Page 320
paragraph 1 (continued)
"the Co-op funeral schemes they had these days" – Co-op societies were first experimented with in the early 19th century, but became quite popular in the UK in the mid-20th century. I have been unable to discover specific history about co-ops and funeral homes, but today various many UK funeral companies are co-ops.
"with the National Health on the horizon" – While not launched until 1948, the NHS was a clear priority of Prime Minister Atlee from mid-1945.
paragraph 2
"There were still midwives" – According to Memories of Nursing:


The National Health Service (NHS) Act in 1946 provided free access for all women to doctors as well as midwives; it was at this point that general practitioners began to regularly see women through pregnancy in order to get the fee available to them from the NHS. As they were not required to attend the birth in order to be paid, this role was frequently left to the midwife

"They weren't freelancers […] and no one called them deathmongers" – Midwifery had been regulated in the UK since 1902. Possibly the Northampton tradition of "deathmongers" was partially to avoid such paperwork?
"put the tin hat on" – Idiom "bring an end to". Possibly derived from WWI soldier's slang, as their "tin hat" (helmet) was the last piece of gear to be put on.
paragraph 3
"trench" – Deep ditches dug to protect soldiers. First came into wide use in the late 19th century.
paragraph 4
"down in St. Andrew's Road " – The real-world Mallard family lived at 17 St. Andrews Road in the 1939 census.
Page 321
paragraph 1 (continued)
"down the bottom of Spring Lane and Scarletwell Street" – The house Alan Moore grew up in was located between Spring Lane and Scarletwell Street. During the writing of Jerusalem, all the housing On St. Andrews Street except for "the lonely house on Scarletwell" had been torn down. New housing was erected on this block in 2017.
paragraph 2
"Clara Swan had worked in service" – The real-world Elizabeth Clara Mallard was listed as "Servant" on her marriage paperwork (1912), and in the 1939 census as "Unpaid Domestic Duties".
paragraph 3
"First there was Doreen's mam herself" – Her husband Joe is probably dead. The real-world Joseph Mallard died in 1943.
"first woman railway guard in England" – "Railway guard" is the British equivalent of the American "conductor". Many railway jobs which were traditionally held by men were (temporarily) opened up to women during the two World Wars.
"cleaned his teeth with chimney soot" – Tooth powder made from soot appears to have been a real thing, so doing it with (free) chimney soot is plausible, if weird to modern sensibilities.
paragraph 4
"ITMA" – It's That Man Again, a BBC radio comedy from 1939-1949. Per Wikipedia:


The show presented more than seventy regular characters during its twelve seasons, most of them with his or her own catchphrase. Among them […] the incompetent German agent Funf ("this is Funf speaking")

"Mind my bike" – Possibly an error? This was a catchphrase of Jack Warner on a different radio comedy of the same period, Garrison Theatre.
"Don't forget the diver" – Apparently a common phrase in Liverpool before ITMA.
Page 322
paragraph 1 (continued)
paragraph 2
"getting on each other's wicks" – British phrase, "annoying each other". Dates to roughly 1945.
"Broad Street[…] across […] Mayorhold" – See map.
paragraph 3
"Semilong" – The neighborhood just north of the Boroughs.
"Birchfield Road in Abington" – Abington is the neighborhood northeast of the Boroughs. Birchfield road is about 1.5 miles from 17 St. Andrews Road.
"at the age of five" – Including this anecdote in Tommy's musings of 1953 may be an anachronism. Less than two years ago, "Baby Jim" was small enough to sleep in a wardrobe drawer, which seems implausible for a, say, three-and-a-half-year-old. On the other hand, Jim outgrowing the drawer may have been a major impetus for moving out… But overall, I'm inclined to date Jim's return to St Andrews Street at closer to 1955.

Jim's "return home" from exile may be considered a thematic echo to John Clare's walk back to Northampton from an asylum (see the Voice of the Fire chapter The Sun Looks Pale Upon the Wall).

"new-hatched ducklings sometimes got confused" – A process known as imprinting.
paragraph 4
"Borax" – A powder with many household uses. The capital letter suggests that Tommy is thinking of a specific brand, rather than just the powder generically.
paragraph 5
Page 323
paragraph 1 (continued)
paragraph 2
paragraph 3
"the shuttered pub, the Spread Eagle" – In this case "shuttered" just means closed for the night; the pub remains in existence to this day.
"The toucan's orange bill on the tin Guinness advert" – In 1928, advertising artist John Gilroy began working on ads for Guinness using animal imagery. The most enduring and iconic of these was a toucan. See image below.

A 1953 Guinness toucan (www.retrofair.co.uk)

"don't sit under the old rugged cross with anybody else but me, no no no" – "Don't Sit Under the Apple Tree (with Anyone Else but Me)" was a popular song from 1939. "The Old Rugged Cross" is a hymn from 1912.
paragraph 4
paragraph 5
"the old Blue Anchor up Chalk Lane" – See note at P324p3, below.
Page 324
paragraph 1 (continued)
paragraph 2
"florin" – Per Wiktionary, "A pre-decimal British coin, worth two shillings or ten new pence."
"two bob" – British slang for two shillings.
paragraph 3
"the Blue Anchor, which had stood just up past Doddridge Church there on Chalk Lane" – The location is further narrowed down by P325p3, which places the Blue Anchor just south of Doddridge Church. The pub map in In Living Memory does have a listing for the "Blue Anchor (Old)", but shows it located a few blocks away on Castle Street. The existence of an "(Old)" suggests that there was at some point a "new" Blue Anchor, perhaps this pub on Chalk Lane. Alternately, the name or precise location could be an error on Tommy's part, or on Alan Moore's part.
"Louisa who'd died back in the late thirties" – Previously (P320p9), she was identified as having died in 1936.
"the extra twenty yards up to the Golden Lion" – The Golden Lion was at the corner of Castle and Phoenix Streets. Alma and Mick met there in the chapter Work in Progress (P16p3ff).
"three musketeers […] D'Artagnan" – The Three Musketeers and its sequels are 19th century adventure novels by Alexandre Dumas. One of their primary concerns is the camaraderie between soldiers. D'Artagnan is the primary protagonist, and "The Three Musketeers" are friends he makes. D'Artagnan himself does not become a Musketeer until over halfway through the book.
paragraph 4
Page 325
paragraph 1 (continued)
paragraph 2
"since time immemorial" -Per an article in a local paper: "The pub is thought to date back to the early 1700s, with the earliest definitive mention of the pub coming from 1717".

Gates at the back of the Old Black Lion (Google Street View Apr 2009)

"the old gates […] at the ale-yard's rear" – See image.
"Elsie Sharp" – Not otherwise attested, though "Elsie" seems to have been a common name.
"up above the railway station" – Castle Station is quite nearby, to the west.
paragraph 3
"Once outside of the Blue Anchor, Tommy had turned left and headed down Chalk Lane to Castle Hill." – This strongly suggests that the Blue Anchor is quite close to the site where Alma's painting exhibit will be.
"it had perhaps been used for something else" – The National Heritage List entry for the building says it was "formerly Congregational Church" and that it was "Founded 1662, built 1695", which certainly sounds as if the building was purpose-built as a church.

Doddridge Church (Google Street View Oct 2018)

paragraph 4
Page 326
paragraph 1 (continued)
paragraph 2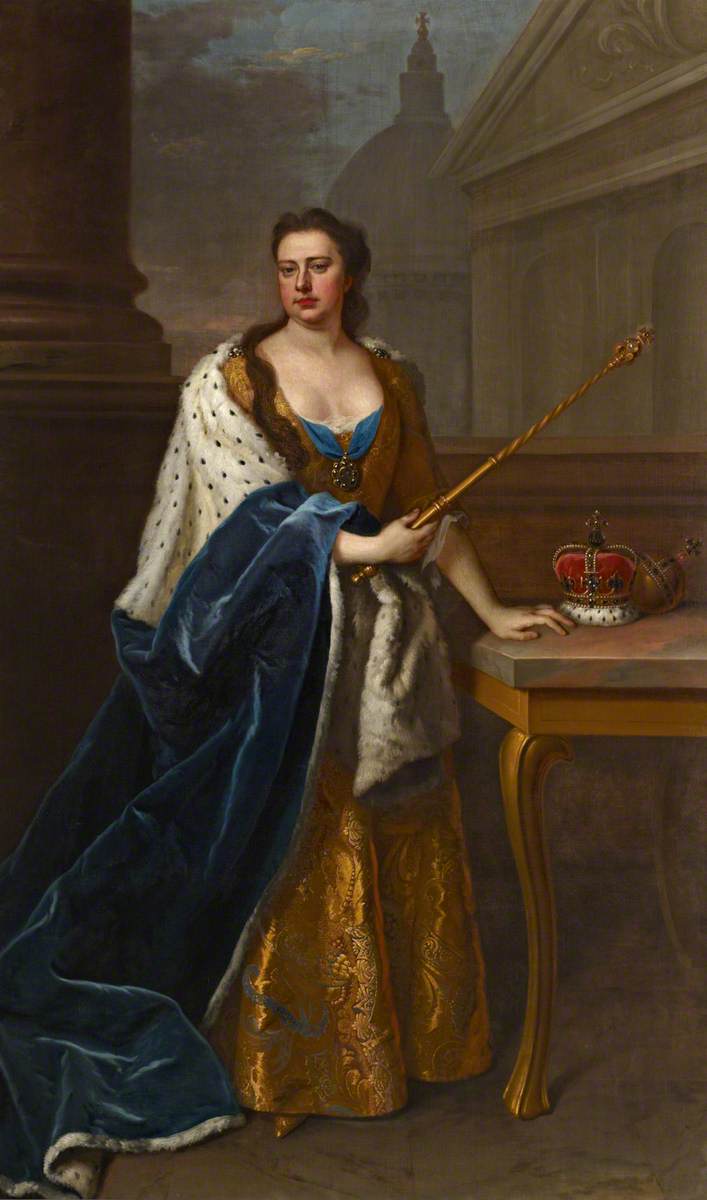 "Queen Anne" – (1665-1714), Queen of England from 1702 until her death.
"Nonconformists" – A general term for Protestants who did not conform to the dogma/authority of the Anglican church.
"the minister who had announced it" – Thomas Bradbury, though the story may be exaggerated.
"quoting from the Psalms" – Actually 2 Kings 9:34.
"Go, see now this cursed woman" – This is, of course, the title of Jerusalem's penultimate chapter. The woman who is to be buried is Jezebel, daughter of the King of Tyre, and wife of Ahab, King of Israel. By the 20th century, the name was associated with sinful women, especially in a sexual sense.
"Dissenters" – Another term for Nonconformists.
"George the First" – (1660-1727, ruled 1714-1727). Born in Hanover, Germany, he and his descendants were known as "Hanoverians".
"had vowed to support their cause" – I have not been able to document any such vow, but George did support the Nonconformists both before and during his reign.

John Wycliffe portrayed in Bale's Scriptor Majoris Britanniæ 1548.

"Independents" – Now known as Congregationalists, a Calvinist tradition dating from the late 16th century in which each congregation independently runs its own affairs.
"Moravian Brethren" – A Protestant denomination dating back to 15th century Bohemia.
"John Wycliffe's Lollards" – John Wycliffe (c.1320s-1384) made the first translation of the Bible into (Middle) English. He also led the proto-Protestant movement which became known as Lollards.
paragraph 3
paragraph 4
"Evangelism" – A slight error, the correct word here would be Evangelicalism. Per Wikipedia: "a worldwide interdenominational movement within Protestant Christianity that maintains the belief that the essence of the Gospel consists of the doctrine of salvation by grace alone, solely through faith in Jesus' atonement."
"John Wesley" – (1703-1791), one of the important early figures of the Evangelical movement.
"the TB took him when he hadn't yet turned fifty" – Doddridge died of Tuberculosis in 1751, at the age of 49.
"Hark! The Glad Sound!" – Written in 1735. The first two lines are "Hark the glad sound! The Savior comes, / the Savior promised long".
Page 327
paragraph 1 (continued)
paragraph 2
paragraph 3
"the newsagent's" – Possibly the same newsagent where Alma started buying comic books in 1960 (P24p3).
"Propert's Commercial Hotel" -I have been unable to locate any information about this establishment. There was a "Propert's" company in existence in England from 1877-1955, which sold boot-cleaning products, but there is no obvious, direct connection.
"disused iron tramlines" – These rails had been (re-)laid between 1925 and 1927. I believe the last trams ran in 1934, though my source is ambiguous. See Modern Times, P152p2 for the introduction of electric trams.
paragraph 4
"Jem Perrit" – Father of Benedict Perrit, viewpoint character of the chapter Atlantis.
"whose dad The Sheriff" – From In Living Memory:

"The Sherriff" outside the Mayorhold Mission (from In Living Memory)

Jim Allard: […] They'd call my father 'The Sherriff'.Richard Foreman: Why?JA: Because he was so domineering. Wanted everything doing his way. He used to sit for hours on the Mayorhold, on a handtruck. […]Eileen Allard : His name (was) Bill Allard.

"a horse-butcher's business" – In Living Memory: "My parents were horse-slaughterers for years. That's how my father learned his job as a vet. He used to cut them up."
"Freeschool Street" – See map.
"skittle table" – Skittles is an English game similar to bowling and normally played outdoors, though smaller "table" versions also exist.
"Three-Fingered Tunk" – Appeared briefly in the chapter Rough Sleepers, and gets a brief mention in the chapter A Cold and Frosty Morning.
"Freddy Allen" – Viewpoint character of Rough Sleepers.
"the wooden cheese" – The "cheese" is a round, flat disc that is the equivalent to a bowling ball in some versions of Table Skittles.
"Podger Someo, locally famous former organ grinder, now retired" – ILM:


There was another barrel organ that used to be round the town and that was pulled by another man named Someo. He was an Italian that came in the town and afterwards, this Someo family they got good jobs in trade and industry and were quite well off really.

This is embedded in a larger discussion of an organist known as "Blind Bellamy" who was "one of the well-known characters in the town"; this may be the (mistaken?) source of "locally famous".

"Olympus" – In Greek Mythology, Mount Olympus was the home of the gods.
"titans" – Continuing the Greek mythology theme, the Titans were the generation of gods prior to the (then-current) Olympian gods.
Page 328
paragraph 1 (continued)
paragraph 2
"Tom's uncle Johnny […] aunt Celia" – We will learn a great deal more about them in the chapter The Steps of All Saints.
"Double Diamond" – An English pale ale. Per Wikipedia, it was "advertised heavily from 1946", and was rapidly rising in popularity at this time.
"al fresco" – Outdoors.
paragraph 3
"the Criterion up King Street" – This pub no longer exists, though King Street still does.
Page 329
paragraph 1 (continued)
paragraph 2
"cousin Audrey" – Audrey appears in the chapter Round the Bend.
"smasher" – British slang, "attractive person".
paragraph 3
"razzmatazz" – Per Wiktionary: "Something presenting itself in a fanciful and showy, often unrealistic manner, especially when intended to impress and confuse."
"as pleased as Punch" – The capitalization of Punch refers to the origin of the phrase with Punch and Judy puppet shows. It is perhaps not coincidental that Punch is an abuser.
Page 330
paragraph 1 (continued)
paragraph 2
"toffee-nosed" – Snobbish. Possibly derived from the British term "toff", referring to an upper-class person, or to someone with upper-class pretensions.
"blue jokes" – See note at P308p2.
"bitter lemon" – If referring to the soft drink, this is an anachronism, as it wasn't introduced until 1957. Possibly it refers to a "pint of bitter" ale, served with lemon?
"gumption" – Initiative.
paragraph 3
"snug" – British: "A small, comfortable back room in a pub."
"titfer" – Cockney rhyming slang for "hat", shortened from "tit for tat".
paragraph 4
"Mary Jane, the brawler" – We met her in the chapter Rough Sleepers, P91p2ff.
"punchy" – Short for "punch drunk", "Dizzy or confused due to repeat blows to the head." Used mostly figuratively today, but here more literal.
Page 331
paragraph 1
paragraph 2
"the war memorial that poked up from the bed of drifting cotton wool around its base" – See image. The "cotton wool" may be weeds?
paragraph 3
"Orme's, the gent's outfitters" – While there are people named "Orme" in Northampton going back to at least the 1600s, I could find no mention of this store. Orme may have bought out an earlier owner; Kelly's Directory shows a "Jack Harrison, clothier" (or sometimes "& Co.") at this address from at least 1890 to 1914. Orme's is mentioned again briefly in the chapter The Rood in the Wall (Pxxx).
"Cromwell House" – AKA Hazelrigg House, see the chapter Sleepless Swords.
"half-cut" – UK slang "rather drunk".
paragraph 4
paragraph 5
Page 332
paragraph 1 (continued)
"Horsemarket" – That is, east, away from Tommy.
"bugger all" – British slang, "nothing".
paragraph 2
paragraph 3
"Free School […] in the fifteen-hundreds" – Per historian Mike Ingram, St. Gregory's Church (as seen in the chapter X Marks the Spot) "became the town's very first free Grammar School in the 1500s".
"joanna" – Cockney Rhyming slang, "piano".
"what used to be Green Lane" – In the 1899 map, Green Lane can be seen heading southeast from the south end of Freeschool Street. By the time of the 1950 map, the area seems to have been rebuilt somewhat, and the roughly corresponding street had become "Court Road".
"Why tell them all your secrets …" – First line of the second stanza of "Whispering Grass".
paragraph 4
"knackering" – This would usually mean "tiring", but here seems to mean "knock unconscious", probably in connection with the noun form of knacker, "One who slaughters livestock" (often by a blow to the head). This perhaps links thematically to the injury suffered by Mick Warren, recounted briefly in the chapter Work in Progress (P15p4), and at more length in Go See Now This Cursed Woman (Pxxx).
"They're buried under the snow …" – Second line of the fourth and sixth (final) verses.
"Ever so well he knew it" – Possibly due to the popular version recorded by The Ink Spots in 1940.
Page 333
paragraph 1 (continued)
paragraph 2
"Whispering grass, don't tell the trees …" – Third line of the fourth and sixth (final) verses.
paragraph 3
"that's where Tom thought that the expression "grass" had come from" – Tom is mistaken, as this usage of "grass" dates back to at least 1932, while the song wasn't recorded until 1940, and in America. The actual origin might be from Cockney Rhyming Slang "grasshopper" for "copper", which dates back to at least 1893.

"Flowers and Trees" poster

"like something that Walt Disney might have done" – Animate foliage was occasionally used by Walt Disney. Perhaps most famously, in 1932 the Disney cartoon "Flowers and Trees" was the first commercially released technicolor film, and a commercial and critical success.
paragraph 4
"… 'cause the trees don't need to know." – Final line of the fourth and sixth (final) verses.
Page 334
paragraph 1 (continued) – 2
paragraph 3
paragraph 4
"Oh Mine Papa" – Originally in German: "O mein Papa". While it was written in 1939, it didn't come to prominence in the UK until 1954, so wasn't all that likely for Thursa to play. The openings of the pieces are vaguely similar.
paragraph 5
"down Freeschool Street, along Green Lane to […] Green Street" – At P332p3, Tommy referred to "what used to be Green Lane". Possibly it was renamed in between 1948 and 1953?
"lit the mantle" – A gas light fixture. They were already little-used by 1948, but this is another indication of the general poverty of the Boroughs.
paragraph 6
"a group shot of the outfit Uncle Johnny managed" – See photo below. Moore described acquiring the photo in a 2016 interview:


Apparently her uncle used to be in the same band as Audrey Vernon at the end o' the 1940s, an' […] she still had a copy of one of their P.R. pictures […] which has actually got Audrey – who I've never seen, I've never seen an image of 'er – but it's got Audrey at the front, er, in an otherwise all-male band with her piano-accordion, so, er, they're gonna send it to me so the second edition of Jerusalem, yeah on the dedication page I want this photo…
Page 335
paragraph 1 (continued)
"comically exasperated […] but flattered" – This typically male interpretation of Audrey's emotional situation will look quite different after the revelations in the chapter The Steps of All Saints.
paragraph 2
"When the grass is whispering over me, then you'll remember." – This recalls the frequent child idea "When I'm dead, then you'll be sorry. But the reference to Whispering Grass also points to the revelation of secrets about kissing.
"up the Berry Wood turn to St. Crispin's mental home" – Saint Crispin's Hospital was a psychiatric institution on Berrywood Road between 1876 and 1995. It's located about 2.5 miles west of the Boroughs.
Page 336
paragraph 1 – 2
paragraph 3
"Wellingborough" – About 10 miles to the northeast.
paragraph 4
paragraph 5
paragraph 6
Page 337
paragraph 1 (continued)
paragraph 2
"dole queue" – British phrase; literally "unemployment line", but often used to refer to unemployed people.
"wireless" – Old-fashioned term for radio.
"fake seams" – During World War II, shortages of material for women's stockings led to a fashion for faking the appearance of stockings with makeup.
paragraph 3
"Bugger this for a game of soldiers." – British phrase meaning, approximately, "This isn't worth my time."
paragraph 4